Fetcham War Memorials
St Mary's Church, Fetcham
WWI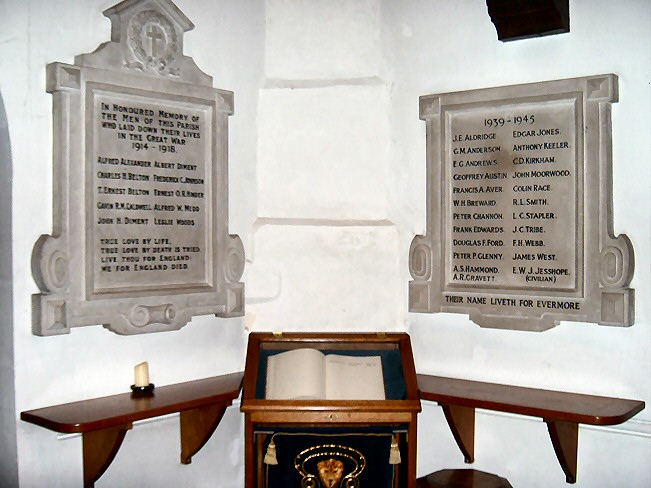 images Haslam, taken 1 Feb 2009
Where a name is hyperlinked this is to what appears to be the relevant record in the
Commonwealth War Graves Commission (CWGC) database or to a page about the person.
Regiment/Service & Rank have been added, as has the cemetery location for those who may wish to visit on their travels.
# see Notes for more detail or comment on the inscription.
IN HONOURED MEMORY OF
THE MEN OF THIS PARISH
WHO LAID DOWN THEIR LIVES
IN THE GREAT WAR
1914-1918
TRUE LOVE BY LIFE.
TRUE LOVE BY DEATH IS TRIED.
LIVE THOU FOR ENGLAND:
WE FOR ENGLAND DIED.
Not on this plaque but listed in the Book of Remembrance as Cpl E Worsfold, Coldstream Guards
and on the Cross of Remembrance as Cpl E Worsfold:
---
SGDW: Soldiers Died in the Great War 1914-19 was originally published by His Majesty's Stationery Office (HMSO) in 1921. It covered deaths within the period from 4th August 1914 (the declaration of war) to 11th November 1918 (Armistice Day) and, in some but not all cases, up to 25th March 1921. It lists the names of 661,960 Other Ranks. We are grateful to Ian Whitlock of Leatherhead for his help on SDGW.
CR: Cross of Remembrance, by Janice Steele of Fetcham U3A Local History Group - see What's New
ALEXANDER, ALFRED
CWGC: Son of Thomas and Harriett Alexander, of Tea Tree Cottage, Fetcham, Leatherhead, Surrey.
CR: in the 1901 Census aged 4 he was living at 75 River Lane, Fetcham. His father was a Stockman on a farm, He had three brothers: Charles James 1897, Frederick A 1898, George William 1900 and Frank Edward 1904. His parents are buried at Fetcham St Mary's, plot 291.
BELTON, CHARLES
CWGC: Son of Mr G and Mrs J Belton, of Almshouses, Fetcham, Leatherhead, Surrey, England.
see TE Belton below.
BELTON, THOMAS ERNEST
CWGC: Son of G and Jane Belton, of Fetcham, Leatherhead, Surrey.
CR: 1901 Census Ernest Belton aged 9 and his brother Charles aged 12 were living at 79 River Lane, Fetcham. Their father George was a 'Carpenter on farm'. There was an elder brother George, 19, a Labourer on farm, and sister Emily, 15, a General Servant (Domestic)
On the 1915 Electoral Roll Thomas was in River Lane paying 4s 6d a week
DIMENT, ALBERT & DIMENT, JOHN H
see Fetcham Boys School 1892
HINDER, EOR - seems to be out of alphabetic order on the memorial
Although there is no evident Fetcham connection in the sole WWI CWGC record for an EO Hinder, CR notes that the 1901 Census shows an Ernest Hinder, 18, Footman at Fetcham Lodge. He was born at Whitminster, Gloucestershire
SDGW: enlisted Westminster, resident Leatherhead
JOHNSON, Frederick C
CWGC: searching on F C Johnson, all except these either were not a Frederick or had family outside Surrey
1. Frederick Charles: 20/09/1917: Sapper in 422 Field Coy, Royal Engineers: no next of kin (nok) information
https://www.cwgc.org/find-war-dead/casualty/1633529/
2. FC: 27/04/1915: Pte in 1st Bn East Surrey Regiment: no nok information
https://www.cwgc.org/find-war-dead/casualty/445989/
3. FC: 29/10/1918: Military Medal: Pte in 8th Bn, Somerset Light Infantry: no nok information
https://www.cwgc.org/find-war-dead/casualty/176034/
It is possible that he may be in the records as an F Johnson or even a C Johnson.
Assuming a local Regiment, there is an F Johnson in the East Surreys:
4. F: 23/08/1914: Pte, 1st Bn East Surrey Regiment: no nok information
https://www.cwgc.org/find-war-dead/casualty/481867/
SDGW: permutations on this name to be tested.
CR: 1901 Census shows possible families one in Leatherhead, one in Reigate. In the Electoral Rolls for 1913-15 there is a Frederick Johnson residing in Cobham Road, Fetcham
More work and information on Frederick C Johnson is required.
WOODS MC, Leslie
Son of Mr. WH Woods, of "Tyrer," Great Bookham, Surrey.
CWGC notes that Halle Communal Cemetery was used by the Germans during the First World War, and after the Armistice by the 1st Australian Casualty Clearing Station. It is not at present known if Leslie Woods died as a result of his war service or was a victim of the Influenza pandemic that swept the world at the end of WWI, killing more people than that war.
CR: This match is confirmed by the detail from the Woods family grave in Fetcham Churchyard which cites his date of death.
IN PROUD AND LOVING MEMORY OF
[CAPTAIN] AND ADJUTANT LESLIE WOODS MC RFA
OUR ONLY SON
WHO DIED AND WAS LAID TO REST
AT HAL, BELGIUM, ON FEBRUARY 25TH 1919
AGED 27 YEARS
CR also adds that he was on the 1918 Electoral Roll, living at Salt Box, Fetcham and that on the 1914 Electoral Roll his father was living in Fetcham Street.
His award of the Military Cross was recorded in the Supplement to the London Gazette, 3 June 1919:
Lt (A/Capt) Leslie Woods, RFA, SR, Attd 15th DAC
WORSFOLD, E
Cpl E Worsfold is listed on the Cross of Remembrance but not on the WWI plaque in St Mary's.
In the Book of Remembrance he is listed as Coldstream Guards.
SDGW lists four E Worsfolds, none in the Coldstream Guards. It lists 25 Worsfolds in total, from which the following Corporals or Lance Corporals are of particular interest. The most likely match is Lance Corporal Fred Worsfold: it would appear that the inscription and Book might be in error, unless of course Fred was better known by a name beginning with E ...:
L/Cpl Fred Worsfold: Coldstream Guards: d of wounds 04/12/17: born Oxshott, Surrey: enlisted Guildford, Surrey: resident Ockley, Surrey
CWGC: Son of John and Emma M. Worsfold, of Woodlands Park Farm, Leatherhead, Surrey. He is not on the Leatherhead War Memorial.
https://www.cwgc.org/find-war-dead/casualty/578035/
8 Mar 09: Janice Steele - in the 1911 census Fred Worsfold, 19, born Oxshott, was working at Fetcham Park as a gardener. In the 1901 census Frederick, born Oxshott, was living with his parents Emma and John Worsfold at Woodland Park Farm, Leatherhead.
L/Cpl William Worsfold: 1st Bn East Surrey Regiment: d 21/08/18: born Leatherhead, Surrey: enlisted Guildford, Surrey: he is on the Leatherhead War Memorial
L/Cpl Frank Worsfold: 1st Bn The Queens (Royal West Surrey Regiment): d 24/07/17: born Upfold, Surrey: enlisted Guildford, Surrey: resident Shalford, Surrey
CWGC: Son of Edwin and Emily Selina Worsfold, of Stonebridge, Shalford, Guildford, Surrey.
https://www.cwgc.org/find-war-dead/casualty/775204/
L/Cpl Alfred Worsfold: 1st Bn The Buffs (East Kent Regiment) d of wounds 09/07/17: connections all Sussex
CWGC: Son of William and Mary Worsfold, of Petworth, Sussex; husband of Thirza Maud Worsfold, of 59, Rose Hill Terrace, Brighton.
https://www.cwgc.org/find-war-dead/casualty/68348/
---
If you know any information about those named on these memorials, or of other memorials to them, please contact the website editor Frank Haslam
page added 1 Feb 2009; last updated 8 Mar 2009: CWGC links updated 11 Nov 17